1/6/02
Over the past couple of weeks, I've come into contact with both Mark Ferrie and Garry Gray of the Sacred cowboys, so expect updates to this page fairly shortly in the near future.
I've also been corrected on a "mountain top" (misheard lyric). In the passage below, the "service man" is actually a "sinless man"....
_____________________________________________________________________
Something's stirring in the firmament
When I hear the word culture I
Undo the safety catch
Of my gun
and
One service man
had it under his skin
Brought us a little trouble from
providence
Great lyrical passages. Impressive cover. Like the Ripe track, this was another song I got to know better off the 3rrr promo-cart than hearing the track itself. But when seeing this single at Collector's Corner in 1989-90, I had to grab it.
With slack arse guitar, euro-synth melody and monotone delivery you get a sure fire Grant classic, and thus a worthy addition to this hallowed list.
Single Info/Band line up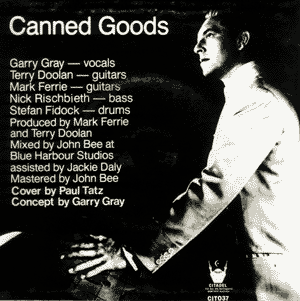 The Sacred Cowboys
Garry Gray - Vocals
Terry Doolan - Guitars
Mark Ferrie - Guitars
Nick Rischbieth - Bass
Stefan Fidock - Drums
Trouble from Providence
backed with Canned Goods
(P) 1988 Citadel Records
Citadel Records: http://www.citadel-records.com
Produced by Mark Ferrie and Terry Doolan
Mixed by John Bee at Blue Harbour Studios
Cover art: Paul Tatz, concept by Garry Gray
Author: Grant McDonald www.indevelopment.org
Audio presented for archival purposes only and all respect is intended towards the Sacred Cowboys. Contact: grant at indevelopment dot org