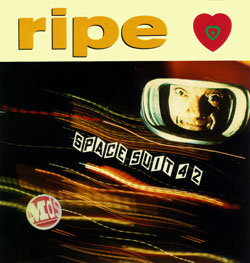 Slack arse rock and roll
I remember this song from radio 3rrr. It was either the e beginning of the 90s and this song was played, rarely in full, but several times a day was used on a station promo,
I did manage though, one day, to have a tape that I could record on in the deck and managed to record most of it. With 3rrr you always stood the chance of never hearing the song again - especially if it was a daytime DJ that was doing it. I always kept a tape in the deck when listening to the radio.
Back in those days I couldn't get into the city as often as I wanted and even when I did manage to get into Missing Link or Au Go Go records, there was always another single, another LP or another CD that was ahead it on the list. Also in those days I would occasionally tape over tapes, not realising that I might never hear those tunes again. Such a fate was destined with Spacesuit 4 2.
When the Napster craze was at its peak this was one of the songs that I would search for, but never with even a glimmer (all I managed to find was a song by "Amber" called "Ripe" (something or other).
Fast forward, though to the start of 2001. I'm dirt poor and in the throws of selling some vinyl to buy smokes and food and I find the single sitting in the new vinyl section. Being the poor bastard that I was, I thought I'd be able to pick it up next time I was in, hopefully with cash once again. By the time that period arrived, I was pro-cash but sans-single.
Later in 2001 I went to Au Go Go records webiste and found it there. This time there would be no missing out, I emailed the kind staff and they put it aside for me.
So there I was, nearly a decade after I'd erased it from my collection about to listen to the song.
First impressions: not as good as I remembered, but good enough for repeat play. Now, months later, it's on my current playlist (so gets played a couple of times per day). It may not be a legendary rock and roll tune but it is a true forgotten oz rock classic. It's slack arse guitar work at its best.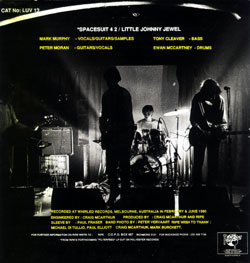 Coincidentally, this single is engineered by Craig McArthur who also worked on one of the Peachfuzz EPs.
Ripe: Spacesuit 4 2
backed with Little Johnny Jewel
Polyester Music, recorded February & June 1990
Lineup:
Mark Murphy - Vocals/Guitars/Samples
Peter Moran - Guitars/Vocals
Tony Cleaver - Bass
Ewan McCartney -Drums
Cover art: Paul Fraser
Author: Grant McDonald www.indevelopment.org
Audio presented for archival purposes only and all respect is intended towards Ripe. Contact: grant at indevelopment dot org