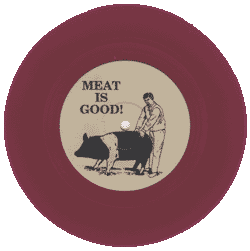 Having discovered alternative music in the 1980s I'd always check the record stores when I went into Melbourne. Depending on my route, I'd tackle Missing Link, Au Go Go, Collectors Corner and Gaslight during the trip. The first pass of each store was to see what was in stock, over lunch I'd work out what was coming home with me and then go get it.
Unless I'd headed in on a specific purchasing mission, everything was fair game.
And that is how I can across this particular release of 100,000 Morrisseys.
I had seen the single before. Due to its subject matter, it was already well known as a cult record. Before now I had only ever seen it the yellow sleeve (using the flier design as cover). This day at Missing Link was the first time I'd seen the "flesh coloured vinyl" variant, so I snapped it up.