26/05/02 Flash buttons!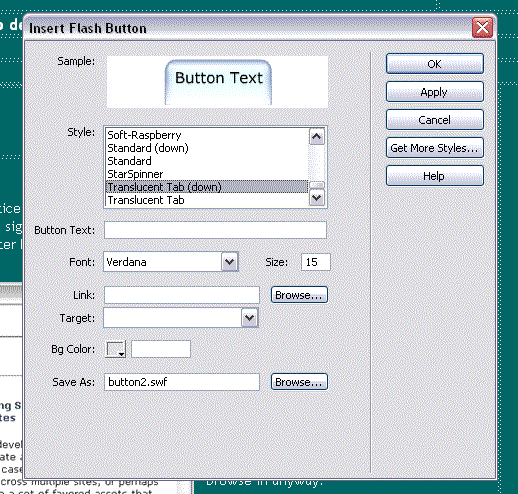 This may have been a feature in dreamweaver 4, but I'm darned if I could find it (I think it may have been an extension). What we have in Dreamweaver MX are instant Flash buttons! Alright, here's a time saver that I could have really done with over the Christmas break when I was revamping indevelopment.
I guess this feature is going to be most appropriate for people that either don't already have Flash or who could not get the hang of making Flash buttons, or then again perhaps it's just for the super-lazy. No matter what category you fall in, I'm sure that this will be quite the time saver.
While I'm in the area of extensions, there aren't many yet that work with Dreamweaver MX and this does include extensions that worked with version 4 and below. If you have a particular extension that you can't live without, I suggest waiting for the extension to be updated for the MX architecture before laying out the dollars to upgrade the application. Like the Apple OSX users are finding out, it's horrible to shell out money for software only to find you're doing more work in the previous version.
I've also found that Dreamweaver MX does not support the use of "*" as a measurement, which is truly annoying. I had to piss-fart around with this page to get the tables to work I can't workout why this needed to be removed. Perhaps someone with a stronger knowledge of actual coding would have a better idea.
I can report too that I have not had any of the interface glitches I was getting with version four. Mainly these had to do with the tops of toolbars expanding over the top of the controls.