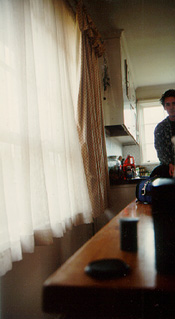 The shoebox in Glen Waverley, corner of Marcia Court. It's average single brick facade gave way to a house that was built to be rented.
The carpets hid the stains (except the blue one), the walls let in the cold and retained all of summer's heat. Easier to break into than a child's cubby house, this house was the pits.
As a home though, it had its charms. People would come, drink, smoke and relax. The lawn was tall, the weeds plentiful and the munchie cupboard always well stocked.
I met some great people there and left even more behind. I slept in all three bedrooms and fell out of at least two windows. The pizza place knew where it was just by saying Kauri and delivered great pizza in mere minutes. The only Christmas I spent there they brought a bottle of wine, too.
Sometimes I hated it, sometimes I loved it. One friend died while I lived there.
Kauri was my first place. Naive and full of hope I started and a shell I left but Kauri was shelter. Eight months I'm surprised I can still remember.