Update - February 2001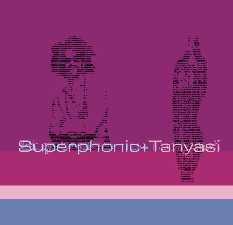 Have been keeping in touch with Glenn Oakes and his Superphonic project. It seems that Glenn has hooked up with a vocalist and is ready to take the Superphonic sounds to the next step. I asked Glenn how recent sessions have been going.
Hi Grant, it went well. Words have been written for three songs - they all sound fantastic and all quite different; I'm looking to go into the studio to do a demo in the next 14 days - that's the current timeframe we're working toward.

Glenn has also given us a rough teaser of the new cover. Expect more information in the near future.
July 2000
It's 8.29 pm (Melbourne standard tine) about 30 minutes before Superphonic gets its first radio exposure on arguably Australia's most influential radio network JJJ. Superphonic has made it as MP3 of the week... just the beginning. Glenn rang me up panicking at around 7.30pm, he needs a place to chill and gather his thoughts before he makes a dick out of himself.... kidding of course. Glenn is one of those people that thrives well on disarray.
Thought we'd update the page with the events as they progress, or for you, progressed.
20 minutes to interview time and Glenn is getting nervous as hell... smokes, coke and lots of shuffling. Overall, things are going well.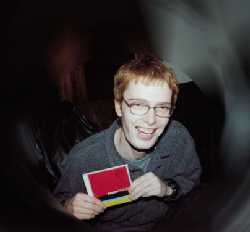 Glenn is on the radio... he's cool and composed (as much as Glenn can be) and we've got the whole seven-second delay thing happening - plugging the concept, plugging Nick and plugging a new site to come soon.
JJJ are giving him lots of time, asking good questions. Attracting the right attention to what he's doing: even got to say "Snails on Acid" on national radio. They like the music - like the Superphonic site.
The great thing about living in the internet age is that people are able to begin a project from an idea to a complete package in a matter of weeks and then have a great world-wide distribution network at their disposal.
Glenn Oakes is talented. I did this interview not just because I know his work but knowing the person that he is, I think SuperPhonic will be a name to watch out for in the coming months. I asked Glenn a couple of questions about his new musical venture.


Thanks for doing this Glenn. What were the origins of Superphonic?
I had not been playing music for a few years after the dissolution of my band 'Snails on Acid' and an opportunity presented itself to create music on my Mac at home. Initially, I was introduced to a program called Re-birth by a friend and went on from there. I have come quite a long way since then.
Where'd the name come from?
I've always found naming a band quite difficult. Basically, out of a whole bunch of words that were generated during a brainstorm session, super and phonic seemed to go well together. Unfortunately, there is no subtext. Just two words. I have been told that there is a group called 'Superphonics', so I imagine that I'll have to change it if I ever release any tracks. Perhaps I'll rename the group 'Steve Austin's Poo Brown Leather Jacket'.
What packages have you used to construct the tracks?
Re-birth 2.0, Deck II, Pro Tools and a big swag of loops and samples.
Who's involved in Superphonic?
Nick Aridas and myself. I haven't quite decided what role Nick will play, but it will probably be overseeing another aspect of the SuperPhonic concept. We intend to make SuperPhonic a brand which we will use on a number of projects. We've set no boundaries, so expect to see a SuperPhonic fashion label, a SuperPhonic stuffed toy and so on. Keep an eye on the website.
Any plans of selling the material?
Only if anyone wants to buy it. I'd like some cash to polish up some of the songs in a studio.
If music is your love, what's the day job?
I am the director of the New Media division for Cornwell Design, a branding and communications studio. Would rather be a gardener.
What equipment is sitting on your desk?
You had to ask didn't you? Here goes...PowerMac G3/450/512MB RAM, 21" Coloursync monitor, ZIP, CD burner, 12"x10" drawing slate, Toshiba P266 Laptop, lots of books, Nokia 7110 WAP phone, lamp, cup of peppermint tea, music CDs (Soundgarden, Air, The Doors, Faith No More, Chemical Brothers), printout of 3D drawing I was doing yesterday.
You've worked and created in a PC and Mac environment. Is Mac the tool of choice?
No, not really. I'm quite happy working on most computers and operating systems. For any graphic work, I prefer a Mac for its reliability and power. Wintel machines have a greater variety of software and hardware, which is why I have a Mac and a windows-based laptop.
You've got an album worth of material posted. What's the next step for Superphonic?
I need to find some time to send off little promotional kits to A&R reps. Ideally, I'd like to record a few vocals with some of the tracks and then perhaps do some remixing. If things take off, I'll look at getting a few friends together and putting together a live show.
What are your thoughts on MP3?
I think that manufacturers of CD players should start making units that play back MP3 as well as standard audio. That would have the dual effect of extending the life of the CD format, as well as giving us consumers a device capable of 200+ minutes playback per CD. One thing I really hate is changing CDs in my car. In the next couple of years quite a few MP3 related issues will be dealt with by courts around the world. It's looking quite likely that severe restriction will be applied to the format to protect various copyrights. If the outcomes of these cases are not in favour of the MP3 distributors, then I would expect that various restrictions will be placed upon the MP3 format, rendering it useless to people like myself. Hopefully, I'm wrong.
Is the internet in its childhood or going through the teenage years?
The internet has not even made it to childhood. It's still a toddler. The infrastructure currently being put in place (optics, data centres, IPX gateways etc.) will result in vast performance increases in a couple of years. I would predict that 40-50% of all connection in 3 years will be wireless, using hybrid Palm-pilot like devices with speech recognition. There are already a few available on the market. What can be achieved via the internet is quite amazing, but in a decade it will be nothing like what it is today.
What's the last book you didn't finish and why?
Tibetan book of living and dying - didn't quite finish it as I kept on flicking back to earlier sections to re-read parts I found enlightening. Highly recommended reading.
And finally... you're stuck on a desert island with all of your CD collection, a portable disc player and 4 AA batteries. What gets played (while you can)?
Considering that I don't eat seafood, I'll assume that I'll be stranded and starving. Would have to have 'The Doors', as it has 'The End' on it - top song to go out to. As for the others, I'd take Motorhead live at Hammersmith (for Ace of Spades and Killed by Death), 'Deep Dish's 'Junk Science' and maybe Nina Simone or some Miles Davis.